It's a fact: maths can be tricky. From basic addition to complex equations, there are lots of concepts to master and facts to learn, which can feel more than a little intimidating!
With this in mind, it's really important for children to practise maths 'little and often' in order to develop their skills, boost their confidence and, most importantly, gain a genuine love of the subject.
Here are six fun ways to help your child practise maths at home, all requiring minimal planning and resources.
---
1. Play maths-based board games
There are lots of board games that involve maths skills, such as calculating scores or determining the correct amount of money to pay. Monopoly, Yahtzee and The Game of Life are all great examples of games that can help your child practice maths in a fun and engaging way.
There are also dedicated maths board games that explore a variety of topics, such as subtraction and addition. Why not take a look at our favourite mathematical board games?
2. Use everyday objects for counting and measurement activities
You can use objects from around the house, such as coins, food, or toys, to help your child practice counting, estimation, and measurement. For example, you could ask your child to count how many apples you have or measure the length of a toy car using a ruler.
For even more ideas, be sure to check out our blog all about indoor maths activities. From baking to playing shopkeeper, our games are ideal for developing core maths skills and keeping your child entertained on rainy weekends!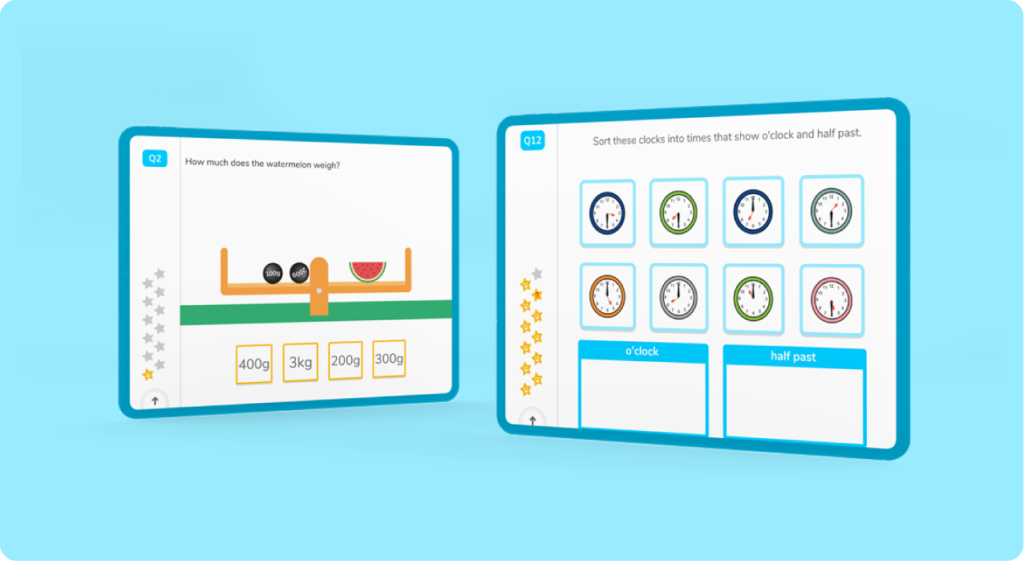 3. Give DoodleMaths a try
DoodleMaths is the perfect home learning solution. Filled with thousands of fun, interactive exercises, it's a clever app that creates every child a unique work programme tailored to their needs, boosting their confidence and ability in maths.
Designed to be used 'little and often', it can be used offline on tablets and mobiles, letting your child learn anywhere they like (it's the perfect companion for car journeys!).
Best of all, it's created by our team of teachers and education specialists, so you can rest assured that your child is covering all the content they need. Why not try it for free today?
4. Turn your food shop into a maths lesson 
The next time you go shopping, encourage your child to help you find the best deals and compare prices. You could also challenge them to calculate the total cost of your purchases and give the correct amount of money at the checkout.
This activity is a fantastic way to show your child how handy maths can be in real life and help them develop their mental maths skills.
5. Make maths part of your daily routine 
There are lots of opportunities to practice maths skills in our daily lives. For example, you could have your child help you set the table by counting out the correct number of plates and utensils or have them count how many trees they can see while you drive somewhere together.
To take your learning one step further, why not set a goal for your child to solve a certain number of maths challenges each day? Doing this is a great way to keep them motivated – and at the end of the week, you could even reward their hard work with a certificate or a family film night!
Conclusion
And there we have it! By incorporating maths practice into everyday activities, you can help your child to improve their understanding and build their confidence in the subject.
For even more ways to practise maths, be sure to give DoodleMaths a try. It's packed with 40,000 curriculum-aligned exercises and games, building your child's skills and ensuring continual progression through the curriculum. And best of all, you can try it for free!