SATs (also known as Standard Assessment Tests) are a series of tests that are taken by primary school students in the UK. KS1 SATs papers are specifically designed for children in Year 2, who are typically aged 6 to 7 years old – but what exactly do they include?
There are three KS1 SATs papers: one in English grammar, punctuation and spelling (known as the 'SPaG test'), one in reading and one in mathematics.
Each of these papers is designed to assess a child's understanding and knowledge of the core subjects they've been learning in school. Now, let's break down what's covered in each paper in a bit more detail!
In this blog, jump to:
---
KS1 English SATs papers
English Grammar, Punctuation and Spelling (SPaG) papers
Children are given two papers to test their knowledge of SPaG.
The first paper is a spelling test that's worth 20 marks.
The second paper analyses a child's ability to review different pieces of text, focusing on grammar, punctuation and vocabulary. The questions are a mix of multiple-choice and short-answer questions. Some of the topics covered may include:
Nouns, verbs, adjectives, and adverbs
Capital letters and full stops
Commas and apostrophes
Plural and possessive nouns
Homophones (words that sound the same but have different meanings)
Reading papers
Pupils answer two papers focusing on reading as part of their KS1 SATs papers.
The first paper focuses on comprehension exercises, where children are given sets of texts to answer questions about.
This second paper consists of a reading booklet and a separate answer booklet. The reading booklet contains a selection of texts, including fiction and non-fiction, with a range of question types.
The texts are designed to test a child's ability to read and comprehend different types of writing, including fiction, non-fiction and poetry.
Some of the areas covered in this test may include:
Understanding the main idea of a text
Identifying key information and details
Making inferences and predictions
Identifying the author's purpose and viewpoint
Understanding the meaning of unfamiliar words
---
KS1 maths SATs papers
The KS1 maths SATs papers are designed to measure a child's arithmetic, mathematical fluency and problem-solving skills. Children complete two maths papers: one on arithmetic and one on reasoning.
Arithmetic paper
In the Arithmetic paper, children complete a series of calculations, including addition, subtraction, multiplication and division. This paper is worth 25 marks and will take 15 minutes to complete.
Reasoning paper
In the Reasoning paper, learners are given a range of problems to solve that test their reasoning, mathematical fluency and problem-solving skills.
The test is 35 minutes long and lasts for 35 minutes. It may cover:
Counting and number recognition
Fractions
Time and money
Shapes and measurements
---
In summary…
Although they may seem worrying, KS1 SATs papers aren't designed to be scary! They're simply a way for schools to track each child's progress and identify any areas they may need help with. The results of the tests are also used by teachers to plan future lessons that'll best support their pupils in their learning.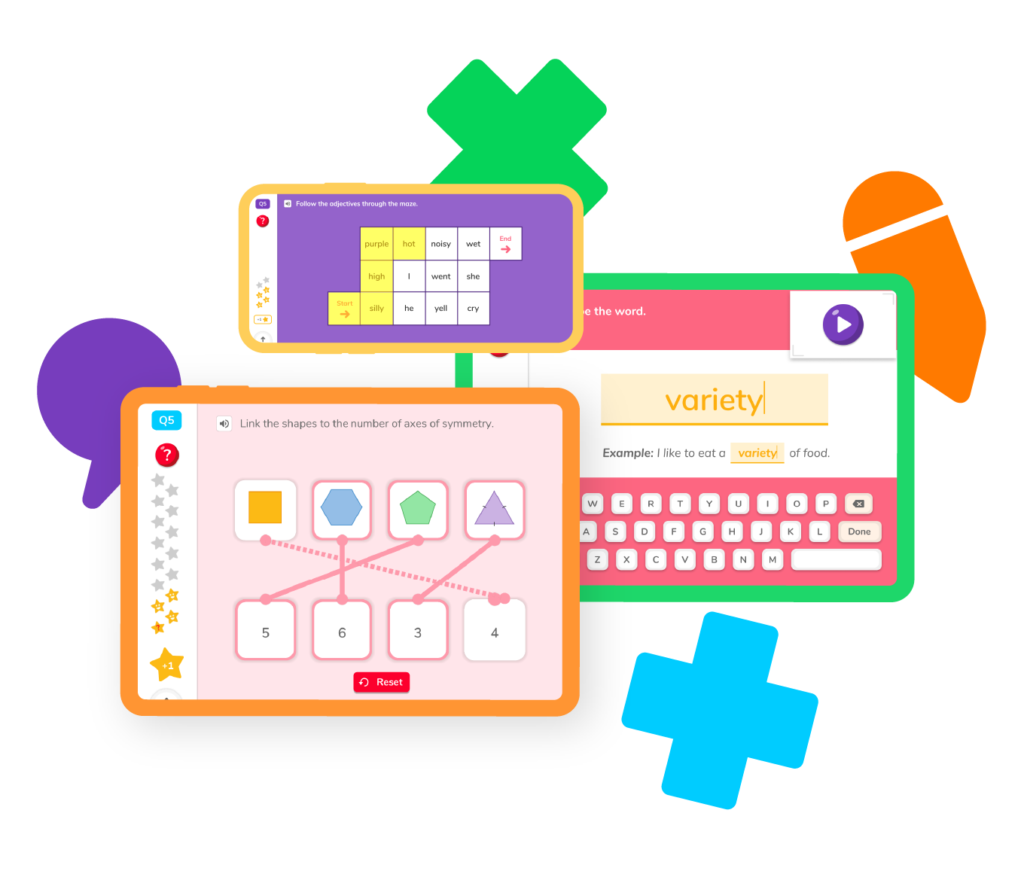 While KS1 SATs are important, they shouldn't be seen as a cause for stress. And luckily, this is exactly where our award-winning SATs apps can help!
Designed by our team of teachers, our maths and English apps are fully aligned to the curriculum, ensuring children cover everything they need to know for the exams. Plus, they're filled with fun, interactive exercises that reward effort over ability, reducing any anxieties kids may have about SATs.
Create an account to try them for free with your child or pupils today!
More KS1 SATs resources