Everyone has their own opinion on SATs, but one thing we can all agree on is that the acronym propels dread into teachers and pupils alike!
As teachers, we don't want children to fear assessments. Instead, we'd love them to see SATs as an opportunity to showcase their hard work and effort.
With this in mind, here are four methods you can use to support your pupils in the run-up to SATs week.
---
1. Model positivity
It's all too easy to let a negative comment about SATs slip out in the staffroom, the corridor or even in the classroom, especially when stress levels are already high! 
Instead, try to paint SATs in a more positive light. Encourage your pupils to think of them as a way to show off what they've learnt and that you, as their teacher, want to show off how amazing they are! 
After all, a positive environment = positive thinking. 
2. Develop a growth mindset
The popular buzzword 'growth mindset' has certainly been doing the rounds the past few years, right?  
Nevertheless, this term is an incredible tool to develop in your classroom! Teaching children to embrace their mistakes, and knowing that this is where real success comes from, takes an enormous amount of pressure off them.  
Normalise failure and reward persistence. Progress > perfection! 
3. Practice mindfulness 
It may sound cliché, but mindfulness has its place in the classroom, particularly when anxiety rears its ugly head.  
Encourage children to focus on their breathing by putting their hands on their stomach, closing their eyes and feeling it going in and out as they breathe. Can they count their breaths? 
Another great mindfulness technique is grounding. Ask pupils to think about where their feet are. Can they feel the ground? Can they wiggle their toes? Can they focus on their knees, their hips, their fingers and their arms?  
Bringing children back to the present can refocus them during an anxiety-driven moment, especially before a SATs paper! 
4. Encourage visualisation 
It's very easy for children to only focus on the SATs paper or the revision that lies ahead. Instead, put a positive spin on things!
Ask your pupils how they'll feel when they put down their pen and close the paper. "Can you see yourself with a big grin as you finish that last question? You must feel so proud!".
Then, encourage them to think about how they'll feel after SATs. Will they do something to celebrate? How will the class feel?  
---
Doodle: the perfect SATs companion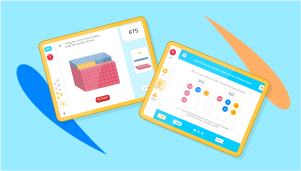 Success comes both inside and outside of the classroom. And this is exactly where Doodle can help! 
Doodle is the suite of award-winning apps revolutionising the way children learn. Covering the core areas of maths and English and being perfectly aligned to the KS1 and KS2 curriculums, our four apps are the perfect SATs revision companions! 
Doodle assesses each child individually and tailors activities to their unique level, plugging their learning gaps and introducing new topics as necessary. And with all the apps being available on laptops, desktops, tablets and phones, learning can happen anytime, anywhere! 
Using Doodle 'little and often' has been proven to accelerate progress and attainment. Children who earn 15 stars a day progress by an average of 1.4 years in 12 months, compared to 0.84 years for those not using Doodle! 
By combining mindfulness, a growth mindset and Doodle, your pupils are sure to excel! 
Like what you hear? 
Click here to learn more about Doodle for schools, or book a quick chat with our team to discover how our apps could support your pupils. Plus, if you like what you hear, they can set you up with a free trial for as many pupils as you like!